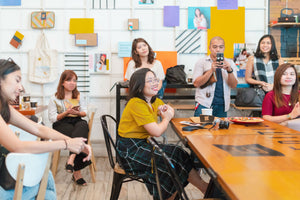 Crafting Our Purpose with Alternative.ph
It was love at first sight.
Liezl "Liz" Cabrera first laid eyes on Woven's vibrant laptop sleeves at Roots Katipunan. The affair blossomed as Liz learned more about Woven's story leading her to strike up a potential collaboration with Woven.
Thus began the creative partnership with Alternative.ph, the e-commerce platform of Works of Heart (Update: the shop is now closed but you can find out more about the initiative here). Alternative works with local social enterprises they call "Hi-Fi brands", which stands for High-Quality, Impactful, and Filipino. Liz Cabrera was at the helm of Alternative as the platform's resident Project Manager.
At the heart of the Alternative x Woven partnership is a shared love for local arts communities. Supporting local is more than about where each product is made. It's about empowering crafts communities - the very reason for Woven's existence.
With Alternative's mission of championing local social enterprises and Woven's aim to uplift weaving communities around the country, it wasn't difficult to come up with a product that seamlessly intertwined the two organization's purpose or Layunin.
For this interview, the Woven team wanted to learn more about Alternative's story. Liz regales us with anecdotes about building Alternative.ph, working with Woven, and what it really means to "love local".
What does it mean for your team to champion Filipino brands?
Alternative is actually a play on words of 'alternative' and 'native' which we think is very apt for what we wanted to achieve. It was our way of saying, "Here are good local/native alternatives that you can support!"
It stems from our belief that design and platforms, like Alternative, can play a role in bridging people and local brands. What we particularly wanted to do is bring together local brands that advocate good causes and to amplify their stories so more people can know and support them.
Ultimately, we dream for businesses to be more sustainable, impactful, and inclusive.
What was the experience like in working with the Hi-Fi brands, from establishing the partnership to designing collab products?
We're very lucky and grateful to be working with brands that are so open with collaborating and being a part of Alternative. It comes as no surprise that the teams behind the brands are passionate, innovative, and hardworking. It was a pleasure learning about the brands from the founders themselves!
As for Alternative, there was definitely a lot of hard work and heart that was put into designing not just the collab products, but especially the branding, campaigns, and the website itself. Alternative is a project that the whole Works of Heart team worked really hard on, in spite of being a small team.
We're glad we had the chance to put it out there and be able to provide more channels for people and brands to be connected. It's something we hope to build in the future. 
Who do you want to advocate Alternative.ph to?
Alternative was really intended to gather local brands that deserve recognition for their amazing products and stories of empowerment about sustainable livelihood and addressing environmental or societal issues.
With that, we wanted to reach out to people who are already aware of the issues in our society and wanted to take the extra step. We found that local products from smaller brands are not accessible to most people, so we wanted to act as a bridge through this platform.
What is your favorite Woven product?
The whole team loves the collab item we did with Woven, which is the Layunin! Dianne Aguas, the designer behind Layunin, wanted something that not only reflects Alternative or Works of Heart, but also something that everyone can resonate with. We're super thankful we had the chance to do this collab!
Which Woven item/s in particular were popular in your online store?
It was actually Layunin! We're looking forward for our next batch of Layunin sleeves, because we have a few people already anticipating for it to be restocked!
What we do becomes more meaningful when it is anchored to a "WHY".
What's your dream for Filipino social enterprises?
There is a big possibility for Filipino social enterprises to grow, because more and more Filipinos are conscious about the things they purchase. Our dream for social enterprises is for them to enhance their impact and be more accessible to everyone.
We aspire for local products and local stories to be celebrated in ways they have not been before, and we believe that it can be possible in the near future. Ultimately, we dream for businesses to be more sustainable, impactful, and inclusive.
Any message for aspiring entrepreneurs or designers?
A good reminder is to always ground yourself to the problem you are trying to solve. What we do becomes more meaningful when it is anchored to a "WHY", a purpose, a layunin.
Always have the humility to learn and surround yourself with people who share your vision and can support you in this journey. You may encounter some challenges along the way but nothing worthwhile ever comes easy.
Check out the Layunin, the Alternative x Woven collab laptop sleeve, and other Hi-Fi finds over at Alternative.ph!