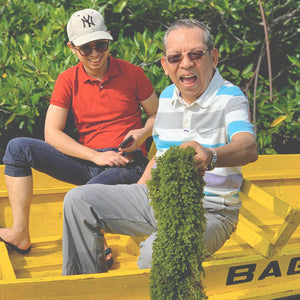 Dear Dad: A Note of Gratitude
"How do I make an Instagram account?"
My 78-year-old father asked, holding up his smartphone. This was quite a feat – my dad was super clumsy with technology, but he was adamant about creating his own profile. I shook my head and chuckled as I watched my fiancé teach him how to set up his account and follow other users. Satisfied, he went to the Woven page and hit follow. According to him, it's so he wouldn't have to keep bugging me for updated pictures of our products and communities.
My dad, Joseph Francia, has always been Woven's biggest influencer. During meetings with colleagues and get-togethers with friends, he took every opportunity to preach about our brand. He would bring out his phone and show off the latest product snapshots that he took. Then he would talk about our mission of empowering the artisans of Basey through crafts and social entrepreneurship. Whenever I joined him in such meetings, it got to the point were I became embarrassed – exasperated even – with how hard he promoted Woven.
He was a regular fixture in our bazaars and trade fairs. He'd make it a point to go to each one, even though sometimes he'd just end up dozing off on a chair inside the booth. But the Woven team always appreciated his presence, especially since he would chat up other bazaar goers and convince them to buy our products. Oftentimes, he would purchase a few items himself to give as gifts. There was even one event where his purchases accounted for a third of our total sales!
His support for Woven goes way back to before the company was started. In 2015, he flew all the way to Samar where I was working as a volunteer community organizer. Together, we went around the different barangays and he would interview some of the nanays as I went about my daily schedule. Perhaps the visit reminded him of his time as a Jesuit priest stationed in Zamboanga Sibugay in the 1970s. His fellow priests told me that later on, he realized he wanted to pursue a different path, which led him out of the Jesuit order and into a different kind of fatherhood. But wherever he went, he always carried with him his faith and advocacies.
In one of our regular Sunday lunches, he talked about Woven's mission and his own belief in creating job opportunities in rural areas (read his opinion piece published by the Inquirer here). I guess in some way he saw that I was continuing his work which had begun even before I was born.
Looking back, I realize how lucky I was to have such supportive parents (my mom did a lot for Woven too, but of course, this article is for father's day!). Running a social enterprise was always going to be a crazy proposition, but my mom and dad were present at every milestone. They had their doubts about sustainability and cash flows, but they still supported us every step of the way.
But more than the time spent in bazaars, the effort of promoting our stuff to friends, or even the Toyota Wigo which he would lend us to transport our goods, my dad's greatest contribution to Woven was his kindness and generosity. He had played various roles in his lifetime: he was a teacher, priest, economist, and activist all rolled into one. And for him, every single person was worth his time, effort, and money because he saw good in everyone. I think this optimism and general trust in human beings allowed him to radiate positivity, bringing a sense of mission and purpose to everything he did.
It was this same belief that drove me to volunteer in Samar in the first place, and which pushed me to continue Woven as a livelihood initiative for the weavers, even after my assignment there had ended. Less than a year after my dad's death and during these difficult times, I hope that his spirit of generosity can live on through the work we do and the hope it inspires in people.
About the Author
John Francia is the Co-founder of Woven and the Executive Director of the Social Economy and Action Research (SEARCH) Foundation. In 2014, he traveled to the town of Basey and spent a year there as a Jesuit Volunteer. He helped organize the weaving communities in the area, helping them form associations so they could earn more and benefit from their craft.
Illustrations by Trish Lim
Credits to Anton Lim for the cover photo