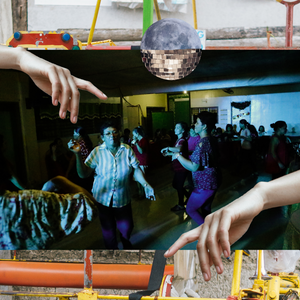 For the Love of Dance
Our Digital Officer, Chelsea Paterno, traveled to Basey for the first time to meet the famous banig weavers of Samar. Little did she know that their talent wasn't limited to weaving the intricate patterns on the mat. Read on to find out what she discovered during her trip to the province.
Dancing is a form of expression that allows you to say and feel so much. I think everyone has done some impromptu dancing at least once in their life. If you haven't, you should give it a try - it is truly freeing. Life in a fast-paced environment can be quite demanding, so I let the music take me especially in trying times. Dancing allows me to pause - to let go and get lost in the rhythm.
When was the last time you've done something that made you feel truly free? 
One of the moments that stayed with me was our time in Basey, Samar. 
Last December, I had the privilege to celebrate and dance with the nanay weavers of our partner community in Basey. Apparently, they love to celebrate through a traditional dance called kuratsa or curacha.
The Woven team had flown in from Manila to Tacloban in the wee hours of the morning. The sky was gray; time crept slowly. From Tacloban, we rode a van for a one-hour drive to Basey, traveling across the famous San Juanico Bridge. Upon arrival, we lodged in a two-story house owned by an elderly woman with a kind smile. She went upstairs to prepare our rooms. Her movements were unhurried due to her age but, she could still move with such ease. A few minutes in and we were already settled.
At lunch time we walked to this hostel that had quirky décor that revolved around chicken. Apparently, the owner was fond of sabong or cockfighting. The place had a cozy ambience with natural lighting that sparked conversations on food history, food and social hierarchies, and Basey culture.
After lunch, we stopped over at ate Beth's house which also served as a workshop for Woven products. Our conversations were packed with updates on the lives of the weavers, stories from Typhoon Yolanda and the town's journey to recovery. We were brought to ate Beth's third floor where we saw a landscape of the town. The soft afternoon light illuminated tiny square houses made out of galvanized iron sheets that stood by a river surrounded by trees. Down below, we saw people going about their daily lives just walking or riding pediabs.
From ate Beth's place, we took a pedicab to the elementary school where the party would be held. We met more nanay weavers who had just finished a bookkeeping workshop. Preparations were still ongoing but we already felt excited, seeing the golden decorations and red cloth.
In the nearby church, similar preparations were ongoing. It was the start of simbang gabi or Misa de Gallo so there were people putting up Christmas decorations with a huge Santa Claus board by the entrance and stockings hanging by the pews. We still had ample amount of time before the party so we went back to the hostel and took a nap. I think we took about three naps on that day alone. The atmosphere just made me feel drowsy and I felt like sleeping forever.
Fast forward to the much awaited event - the Woven Christmas party. Everything was prepared by the different Tikog workers associations. It started with kamustahans (catch up), introduction of the Woven team, and short speeches from the representatives of each association. Their messages were filled with gratitude as they expressed how happy they are with the progress they have achieved since 2014. With a hopeful note, they said that they were looking forward to sustaining what they have established and reach greater heights in the years to come.
"Maraming salamat sa pagbigay ng oportunidad at bagong pag-asa," said Riza, the president of the Old San Agustin Tikog Workers Association. "Sana mas maipagpatuloy pa natin sa mga susunod na taon." (Thank you for giving us opportunities and a new purpose. I hope we continue to grow in the years to come.)
After a variety of delicious food was served, ranging from different delicacies such as sumang latik, grilled milk-fish, crab, and many others. Raffle promos were held; the nanays got to bring home household appliances as prizes, while the kids got free books from the non-profit organization, CANVAS. The talented children also showed off their dance skills. It was such a joy to witness this community have fun and show off their different talents.
And for the finale: dancing. As the folk-like music played, the first ones to get up from their seats paired up and started swaying to dance the curacha. They raised their arms gracefully to the left and right and moved to the beat of the music. Seeing the look of pure joy on their faces, I couldn't help but join them on the dance floor. It was like dancing a combination of the cha cha and waltz. I tried following their footwork but I just winged it eventually. 
Later on, the speakers blasted budots dance mixes, which had a faster and more frenetic beat, and more of the women stood up to dance with abandon.
Some flew solo and showed off their signature moves. Everyone cheered for one another. I took a quick break from the dancing. As  I took my seat and observed, I was in awe of what I saw. Women of all ages gathered on the dance floor, celebrating a year's worth of progress that was built by their community. 
I left Basey with a clear mind and heart. I slept, ate, talked, laughed, and danced.
As the matters of everyday life overwhelm us in a fast-paced city, I hope you don't forget to cherish these everyday moments. Sometimes we tend to forget to do things that fill our soul and make us feel alive.
So, I hope you remember to pause and celebrate how far you've come. I hope you find yourself in situations where you can dance just because. And I hope you feel truly free.
Love, our Woven family ♡