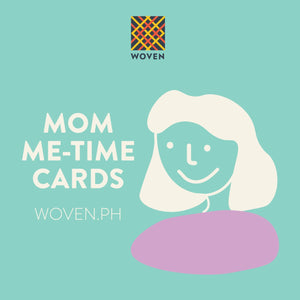 Give Mom the Gift of Me-Time
Thinking of the perfect gift for Mother's Day? We know how difficult it can be - more so now, when it's impossible to go out and scout for a physical present. 
For mothers who now spend 24/7 with their families, there's time for everyone and everything in the household - except for themselves. When we asked moms what they really wanted, we got some interesting answers:
Free groceries
All-day air-conditioning
Extended ECQ (to keep everyone safe and healthy)
See my grandchildren
Lechon (Yum!)
Time to watch K-drama
Space for working out
So we thought, this Mother's Day, it's time to give our moms their much-deserved me-time! We've designed a fun collection of Mom Me-Time Cards that you can print at home and gift to your mom. The rules? Just do as the cards say so mom can sit back and relax. No excuses!!
Here are some cards from the set:
We've even provided a blank card that she can fill out with any special request not included in the deck. 
Everything is available for download (for free!!) here: 
It's just our fun little way of telling our moms we love and value them. And just in case you're interested in getting her something from our shop but you're not sure which one she'd like, we also have a special gift card that you can purchase for use later on. There's no expiration date so she can use it any time!
As we've shared on our social media pages, it's our local weavers - who are also mostly mothers - who benefit from your support. We'd love to do everything we can to sustain their livelihoods in these challenging times. We've shared some of their stories on our blog. (Read: Crafting a New Future for Banig Weavers) 
So that's it. We didn't want the day to go by without honoring the women (and for some families, the men!) who brought us into this world and gave all their love and time to us. Despite everything that's going on in the world, we hope you enjoy this special day with mom.
And to all mothers: HAPPY MOTHER'S DAY! Thank you for all that you do.