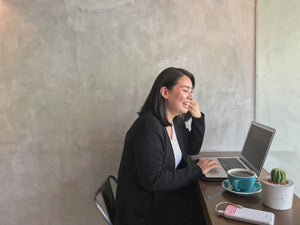 Guest Blog: A Coffice Hunter's Tips to Make Every Meeting Count
Tin recently celebrated her birthday with us with giveaway for a Woven laptop sleeve. Check out her giveaway stories here!
---
From cozy coffee shops to seaside workstations, freelancers have mastered the art of working from just about anywhere. But wherever the venue may be, they are still bound by the same work values of perseverance, self-discipline, and personal efficiency. And a freelancer is never without his or her own formal client meetings - if anything, there is the extra pressure to make oneself more professional, given the lack of a fixed office space.
For this week's blog article, we have a guest post from Tin Advincula of Coffice Hunter on how to prepare for meetings to help you bag projects and partners!
In her own words, Tin is a work-at-home Editorial Manager by day, Blogger by night, and #cofficehunter 24/7. 
With a Creative Writing Degree from U.P. Diliman and numerous short courses from online and overseas all under her belt, you can bet Tin is highly skilled in her field. Plus, she's worked with brands like Dthree Digital, AC Currency, Hello Gorgeous, Access Travel, Trail Adventours, and AltShift Coworking Space.
Tin is someone who's built her career from the ground up, even before graduating from university. With the many skills and projects she's amassed through the years, she's also forged and bolstered connections who can attest to her expertise.
This empowered hustler is one of the best professionals to consult on the freelancing life. She can even suggest the best coffices in the Metro!
What are some tried and tested tips to project professionalism? Let Tin school you on the best ways to prepare - and ace - your meetings with her practical advice on making a notable first impression.
Tin: One of the things I had to work on as a solo entrepreneur, aside from honing my craft as a writer, was talking to clients. Of course, I had the basic communication skills, but this is something I didn't learn in college. It was probably one of the most important things I had to master and experience was my teacher. You see, when it comes situations like pitching an idea, fighting for the budget, or maybe even rejecting a client (this happens) the non-verbal things matter. Which is why your presence and vibe as an entrepreneur make a difference.
Here are a few things I learned throughout my career in making a good impression.
Preparation is Half the Battle Won
Okay, just to start with the most important thing - I come to meetings prepared with a presentation that I'm ready to present or a list of things I want to say. It doesn't have to be done verbatim but having a written guide is a good thing to have to make the meeting productive.
In photo: Liham Sleeve in Natural Black
Dress How You Want to Be Addressed
When I'm presenting myself in a meeting I'm not just representing myself as a writer. I'm the finance, admin, project manager, and sometimes even the graphic designer. I have a lot to live up to and I need to look like I have everything under control - which I do, like 80% of the time. Haha!
Looking presentable includes hygiene, grooming, makeup, clothes, shoes, and accessories. This is when I can rely on my Woven laptop sleeve - whether it's a Dahon-Dahon or an Amakan design it never ceases to spark interest and start a conversation.
Looking a certain way also echoes 2 things: how I want to be perceived and how I perceive my client. In a sense, looking presentable is like a sign of respect and a manifestation of how the important the other party is to me.
Deep Connection Starts with Good Communication
Meetings are basically conversations with a strict agenda. If I'm not at the front and center of the conversation, I should still listen intently and express it through body language (this is why I always nod my heads during meetings), take notes, look people directly in the eye, and ask questions and give inputs.
In photo: Liham Sleeve in Natural Black
Listen to Understand
Meeting people for the first time is nerve-wracking to me because I'm a very opinionated person, but throughout countless meetings I've had, I've learned that my opinion isn't always important. I know, mind-blowing. Opinions can make or break someone's impression of me and what I say may or may not offend the other party. (which is the last thing I want to do) However, I break this rule once in a while when I feel like I have to "defend" something - but I'll only speak if I can voice out my thoughts in an orderly and purely subjective manner.
Charm Them with a Winning Smile
There's a reason people in sales have a certain charm about them. When they speak, they draw us in and keep us focused. They know how to make us listen. Honestly, it's a skill I'm still working on, but I've realized that I can start at a simple smile. No one wants to discuss things with a Debbie Downer! Smile every now and then during the conversation and share a few personal things (nothing too personal, though! Remember the previous tip) People want to work with people they actually like and feel comfortable with, this is what makes you rememberable.
Bottom line is, everything you say you do at a meeting will leave a mark on them and your business. Act your best and make sure you are able to actually deliver all the things you've discussed and promised during the meeting. 'Til then, keep hustling!
Got any more freelancer tips? Share them with the community and leave a comment below!
---
Tin Advincula is a writer from Manila who loves to hang-out in cafes (or as she calls it, "coffices") around Manila to work. She creates digital content for various brands and companies all over the world while living life to the fullest.

Check out her blog at Coffice Hunter!