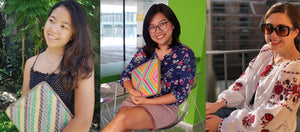 These Teachers Are Making A Difference
by M.M. Maglasang
People say that the youth hold the key to the future. But we forget to add that the ones who polish and shine these "keys" are teachers. Teaching is more than relaying facts and figures straight out of textbooks. It's opening a person's eyes to wider perspectives through education.
Learning can happen anywhere as teachers come from everywhere -- the academia, the fashion industry, and even out in the open sea.
This week, we highlight three educators who have inspired countless individuals in their respective fields.
Read on to learn their stories and what being a teacher means to them.
Former University Instructor and current PhD student
Fun Fact: If you love the Sinag Fuchsia, you have Nat to thank for the playful color combination!
As a management scholar, Nat Chua currently has her hands full doing research on how educational institutions can help undo the marginalization rampant in local communities around the country. Nat is an advocate for women and youth empowerment and she works towards more accessible opportunities for our fellowmen. She is passionate about how business education can produce not only the next generation of entrepreneurs, but also the future leaders of social transformation.

For Nat, being a teacher means meeting people where they are in terms of skill or temperament, and fully supporting them in their educational journey. A good teacher recognizes their students' inherent worth as individuals and pushes them to break the limitations they've built for themselves. The job isn't easy, but when students break these boundaries, the challenge is worth it.

"Nobody teaches for the material benefit," Nat claims. This is why they say teaching is more than a profession, it's a vocation. "I have endless gratitude for all the teachers who have answered this call," she writes. "These people have loved us into who we are today, and we owe it to them for their enduring sacrifice and selflessness."
It was Ellen Johnson Sirleaf, first elected female head of state in Africa, who wrote the famous quote about dreaming big: "If your dreams don't scare you, they aren't big enough." But according to Nat, it should be "If your dreams don't include others, they aren't big enough."

When Nat dreams, she dreams big. She is full of hope for an inclusive and brighter future, much bigger than personal ambitions.
Follow Nat on Twitter at @PilosopoTanya!
Fashion Marketing Professor
Fun fact: Nela's talented students helped Woven create some of the photos and videos on our website and Instagram page!
As a fashion marketing professor at the School of Fashion and the Arts, Nela knows what young creative professionals aspire towards - runway-worthy collections, a spread in the prestigious magazines, their own designer brands and boutiques. But she challenges her students further by raising the question of the future of Filipino design and craftsmanship. 
"I think it's important to support local enterprises so that we can ensure that Filipino designs and craftsmanship live on," she says. "By buying local, we help provide jobs to our countrymen. It's also eco-friendly when sourcing is done locally." 

A generous educator through and through, Nela feels that being a teacher is all about giving. She readily offers her time, knowledge, energy, and skills to students under her tutelage. Nela shares that the most valuable lesson she has learned so far is that there are no short cuts to success - a good network, brilliant credentials, and even a fabulous wardrobe can only take you so far.
She adds: "Integrity and hard work is fundamental in everything."

Marine Conservationist
Fun fact: Gela loved our sea-themed Abre sleeves so much that she raffled away a few of them to the Reef Nomads community!
Moved by compassion and passion for the environment, this skin diver and marine conservationist aims to influence others to care for Mother Nature and practice life conservation. Environmentalism isn't just about protecting our natural resources; it's an everyday choice to respect life in all its forms. 

Gela is a strong supporter of fisherfolk empowerment, working with coastal communities to bolster their economic capacity. Under the sea and out of the water, she teaches people skin diving basics, fish identification, and marine conservation.
Gela also advocates for kindness towards others and kindness for oneself. As a diver, she is a natural buddy who always looks out for other people. Gela has learned the hard way that it's just as important to look after oneself. "Treat rest, fun, and self-care like food," she says. "Get enough of them."

For the founding president of ISDA and co-founder of Reef Nomads Skin Diving Tours, teaching gives one the power to change perspectives. In her case, the perspective shift is literal when she brings her students beneath the waves to experience the beauty and thrill of nature. Though her work may sometimes pull her under, she knows that there is no way forward but to keep swimming. She cherishes the thought that at every diving session, there is always a chance to create an impact in someone's life. 
Follow Gela on Instagram (@stungbyagelafish) and Facebook!
-- 
The mind, once stretched by a new idea, never regains its original dimensions. And we have our teachers to thank for that. They hand down wisdom to the next generation, ensuring that important ideas, knowledge, and skills live on.
This coming November and December, we hope to do the same with a project called Woven on the Move. We'll be bringing our weavers to Manila to teach children the proudly Filipino art form of banig weaving. Keep your eyes on our social media accounts for updates and get in touch with us if you want to know how you can support our weavers.
Again, cheers to all our amazing teachers. Happy Teacher's Month!