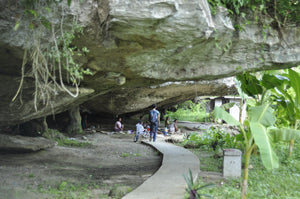 Beginning with Banig
Twenty years ago, Saob Cave in Basey, Samar, used to be home to hundreds of banig weavers, or paraglara in the local dialect. The weavers – mostly women – would crowd the whole length of the cave's spacious cleft, and the walls would resonate with the sounds of laughter, loose gossip, and the rustling of dried grass under deft fingers. 
Manang Julita, a leader of the local weavers' association, explained in Tagalog, 'We weave in the cave because of the cool temperature. It keeps the tikog grass [the raw material for banig] soft and pliable.' It also makes for a pretty photograph for visitors.  
Today, however, tourists would be lucky to see a dozen weavers inside Saob Cave at any one time. In fact, the typical weaver is 50 years old, hunchbacked, and paid only PHP150 or $3.20 per week - in a month, she earns only an average of PHP600 or $12.78. As a result, she doesn't want her children to follow in her trade.
Woven aims to change all that.
Keeping Traditions Alive
'It is very difficult work,' said Mana Clarita, the 60-year old auditor of the weavers' association. 'It is painful. And it pays very little. But I've been able to send my kids to college because of it.'
Keeping the weavers in mind, it is Woven's hope to keep the money flowing into these communities, and help artisans earn more from weaving and embroidery. As a social enterprise, we don't just buy and sell; we design for the community. We don't just provide employment and market access to weavers; we rig the industry in their favor.
By doing all these, we hope to help the communities weave a new pattern for their craft – with better market access comes more income for craftsmen and women, and with more income comes greater incentives for the young generation to take up the art of their parents.
Our Vision and Mission
We began with banig handicrafts in Samar, and now, we're set to explore other weaving communities in the Philippines. Our grand vision is to be a creator of modern, high-quality and highly marketable handicrafts using primarily traditional Filipino materials and techniques.
As we pursue this, we hope to uplift the lives of artisans in the Philippines through the production and sales of handicrafts, ultimately sustaining these traditions as culturally and economically relevant livelihoods.