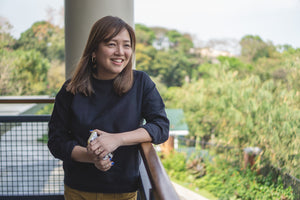 On Living Her Creative Life to the Fullest: An Interview with Alessa Lanot
How does one become creative? Most people would say that you have to be a talented artist, painter, sculptor, musician, or writer to be worthy of the description. Most would squirm uncomfortably to be called thus, pointing out that only those in the design or arts industry deserve the label.
Thankfully, there are people like Alessandra Lanot, who believe otherwise.
Alessa is the creative force behind Life after Breakfast, a design studio and maker of handmade art tools. She earns a living by holding workshops and licensing her designs and watercolor artworks. It was because of her talents and passion for teaching that we invited her to Basey last year. She showed the weavers and kids of our partner weaving communities how to draw inspiration from their surroundings so they can come up with new ideas for their craft.
The designer is also one of eight partners at Make Space Today, a creative co-making space with an all-female team. They provide mentorship programs for artists, designers, and creative entrepreneurs.
As one of the women we look up to, we wanted to pick her brain on what it means to be a #WomanInProgress. We caught up with the entrepreneur to talk about productivity, progress, practicality, and the everyday things that push her to keep going. 
This interview has been edited and condensed for length and clarity.
What's your daily routine like?
My mornings are mostly what I like to keep consistent. Kaya Life After Breakfast 'yung name ng brand ko 'cause I start my life after breakfast. My mornings are the most sacred for me. I do all my personal stuff in the mornings, including creative work also. I do a lot of crafting, painting in the morning. I guess that also counts as meditation.
I feel those are my most productive hours when it comes to creating work.

And then, I usually head out after lunch to meetings, to the restos. I'm an early sleeper. After the day is done, since I work freelance, I meet up with friends. I co-work with friends who are other creatives, who run other creative businesses also.
On weekends, I teach workshops. 
What inspired you to start Life After Breakfast?
It started as a blog to document the things that I would make at or after breakfast. 'Yun lang 'yung only purpose niya before: documentation of my work.
I made it for myself just to push myself to do something creative everyday - to write about it, to make more things. And then it gained a following. Before kasi, I used to teach art classes for kids. Then when I started Life After Breakfast, I shifted from teaching kids to adults. That's when the workshop started. People wanted to know how I make the things that I would post. It evolved from there.
How would you describe progress?
I think progress for me – well, the word itself – progress itself is the ultimate goal. To be the best version of yourself. To strive to be the best version of yourself. To give as much as you can to the world. That's the goal: improving.
The goals can always change. The end goals or the targets can always change. Pero as long as it's always along the path of progress, then you know that you're in the right track. Especially for creative entrepreneurs, there's no one to tell you do this, do that. You know you're taking a risk with every step. I guess progress can be your guide. Walang pat on the back 'pag may ginagawa kang tama. Ikaw lang eh, ikaw lang magsasabi kung saan mo dadalhin 'to.
At hindi lang ikaw 'yung mag-sasabi, kailangan panindigan mo rin.
Seeking Inspiration from Nature: Basey weavers were given time to roam around and sketch the things they found beautiful
Along the way to progress, you encountered challenges and failures. How did that affect you?
For anyone who puts their heart into whatever they're doing, ang sakit ma-reject. Ang sakit masabihan na, "No, not here" or "No, not this time." But I see these as challenges to be better. I see it as ways on how you can be pushed to be better.
There has to be some sort of acceptance and self-awareness at where you are in your life and how capable you are, how good you are. Kailangan honest ka about yourself about it so you can progress.
You mentioned in one of your workshops before that you inspire other people to be creative. 
It started because I wanted to add more creativity into my life - more than what I do for work. With design, yes, you're creative. But mostly with design, you work with clients. And there's a certain limit to the creativity you can do there.
So, creating without any pressures.
I guess that's what my workshop is for: teaching the techniques so that you know what you like and don't like. How you can experiment with it to adapt your own style to it. That's the goal of my workshops: to give people a place for play time - giving them a process for play-time, loosening them up before letting them really do things on their own. I guess that's the door that I open for them.
So why do you think they lose their creativity?
Practicality. Sometimes, you don't take that risk of being creative because it consumes time. It consumes money, energy and focus. So you think that by being creative you're not productive. But I find with my own process that by being creative, I can actually be more productive. A lot of my design work is from all those times when I was just playing. I'm able to monetize them.
Practicality is what hinders creativity. Hindi mo na-rerealize na by being creative just in one day in a week or an hour in a week, it sustains you. So you can go back to the rest of whatever that you're focusing on. Parang refreshed and refueled ka na ulit to go back to your everyday, to your toxic everyday.
What motivates you to keep doing what you do?
Being able to share my God-given skills and talents, and encouraging people to take creative breaks. Because I feel it's beneficial - the creative detox - so you can go back to the toxic work.
The effect of having people and inspiring other people. It's an effect, not really a motivation. My dreams and goals keep me motivated in life. 
What values are important to you in your career?
Being able to stay positive – I'm really all for finding creative solutions to everything. You can use creativity as problem solving. The positive outlook will help that. The creative mind can solve a lot of things in any field. Kahit anong problema, kayang ma-solusyonan if you have a creative mindset.
And of course, telling your own story and being true to yourself. That's something that is so important. Kasi it's not enough to just be doing. Kailangan may meaning 'yung ginagawa mo. It has to reflect who you are also as a person. In everything that you do, what your goals are, what you believe in.
Consistency is also important. Consistency in everyday practice, in the stories that you tell, in the things you say, in your choices. By being consistent, it's a way for people to see and understand, "Ah, 'yan talaga siya."
You work with an all-women team at Make Space Today. What's that like?
It's very empowering. All the women I work with, they're all great in their own fields. It's nice to work alongside the people you look up to. You can learn from them. That's the environment we want to create at Make Space Today: creatives side by side. Breaking barriers, breaking levels when it comes to learning.
What advice would you give to your 20-year-old self?
Tuloy mo lang 'yan. Don't stop writing. Keep writing and painting. 
And what's something you want your 80-year-old self to remember about your life now?
That I maximized my gifts.
What is your proudest moment?
Not related to work, but having and keeping friends from childhood. Because for me, people matter. Even if I'm so engrossed with work, I'm so connected to my friends, to my family, to my husband. Work is just work. I can do work anywhere. Pero, it's my friends who keep me grounded – they're my every day.
-
About #WomeninProgress
This Women's Month, we celebrate the women who work tirelessly to craft a better life for themselves and others. Women who are strong, creative, and resilient, who face different challenges everyday but continuously create solutions that inspire and empower. 
Woven aims to help these Women in Progress connect to their life's purpose and live out their values. We support them, stand with them, and work with them as they collectively progress towards their goals in life.
You can follow Life After Breakfast on Instagram: @LifeAfterBreakfastPH. Apart from being in the design scene, Alessa is also in the restaurant business! She set up Pipino, a Filipino vegan restaurant located in Malingap Street, and co-owns Hillside Café and Juice Bar with her husband, PJ Lanot. Check them out on IG: @pipinoveg and @hillsidecafeph.