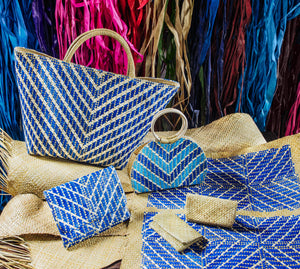 Empowering Women of Tomorrow: A Special Collaboration with CHARLES & KEITH
99% of weavers in Basey, Samar are women.
Over the last years, we have been welcomed into multiple homes where they do their weaving. There is a familiarity to each one: framed certificates and distinguished awards of family members hang on one wall. Buri strips are scattered on the floor. The children play outside and run back through the doorway every so often to check on their mother's progress. Snacks are prepared, cold soft-drink bottles opened and poured into mugs. Gossip is exchanged or songs are sung as the tikog strips magically turn into banig mats in their masterful hands.
Image by CHARLES & KEITH
We have learned many things through working closely with them. Despite the many challenges and limitations of life in the province each day, they remain hopeful. They are hard-working and patient. They are creative and resilient. There is kindness and compassion in the way they carry out their tasks.
The most vital thing we have learned is that when women are given a choice and given the chance to take control, they are empowered. When women are empowered, people around her feel this way as well. Because when women dream, they dream beyond themselves.
This was a belief shared by CHARLES & KEITH. And this was what powered our collaboration with them.
Image by CHARLES & KEITH
In 2019, CHARLES & KEITH is continuing its efforts to achieve the vision of a world that is free from gender discrimination, inequality and violence. In honour of International Women's Day, they reached out to us to produce a special capsule collection of hand-woven items. Inspired by the theme "Empowering Women of Tomorrow", it consisted of four unique products and is now a part of a movement to provide women with vital skills to better their lives and give them a voice in their communities.
For Woven, this also served as the perfect opportunity to showcase the craftsmanship of our Filipina artisans. As a social enterprise, we are dedicated to the goal of keeping weaving and embroidery traditions alive through the sales of handicrafts. We work with artisan communities and help them gain better market access for their handmade goods. This provides craftspeople with more income, and in turn provides greater incentive for new generations to take up the art of their parents and grandparents.
Woven Co-founder and CEO Trish Lim shared that she believes that one should use her "talents, skills and and knowledge to create opportunities for other women and make their lives better." Through Woven, she hopes to contribute to the creation of a just and equitable society where female artisans have the power to forge a brighter future for themselves and their children. The social enterprise also works to unlock the leadership potential of the women they work with, so that they may become inspiring role models for others in their communities.
Image by CHARLES & KEITH
For every product sold from this special capsule collection, 20% of the net sales would be donated to the weavers of Woven, helping them to realise their potential as empowered female leaders, and advocates for gender equality in their communities.
The CHARLES & KEITH capsule collection for International Women's Day 2019 would only be available on CHARLESKEITH.COM – excluding the UK, EU and Japan markets.
We couldn't be more excited to share this special collaboration with all of you! Let us know in the comments section below what you think of the campaign.
For more updates and stories about the collaboration, visit the website: https://www.charleskeith.com/ph.
About CHARLES & KEITH 
Fashion entrepreneurs, Charles & Keith Wong founded CHARLES & KEITH in 1996 upon identifying the potential of footwear designs catered for eastern women. CHARLES & KEITH is the go-to fashion destination for stylish urbanites, recognized for its desirable fashion and curated collections of relevant designs. With women as the central focus, the brand has developed a full-fledged line of footwear, bags, eyewear, accessories and costume jewelry. Pushing forward four brand values: Experimental, Desirable, Curated and Modernity, the brand aims to celebrate women and inspire fashion and beauty every day. CHARLES & KEITH extends beyond brick-and-mortar with online shopping site CHARLESKEITH.COM, making the brand available through United States of America, Asia Pacific and Europe.