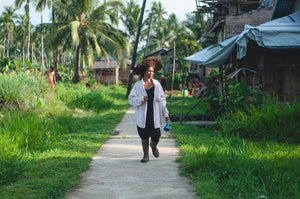 The Bahay Kubo Program: Food Sustainability for Rural Communities
Woven Co-founder and SEARCH Executive Director John Francia talks about the potential problems faced by communities in the provinces as the pandemic persists and what Woven aims to do to offer long-lasting solutions. Read about the Bahay Kubo Program and how you can help out.
With the Luzon-wide lockdown and our own personal fears about COVID-19, its easy to forget how deeply the issue is also affecting our fellow Filipinos living in other parts of the country.
In Samar, while there have only been two confirmed cases at the time of this writing, a community quarantine is also being imposed by the provincial government, with strict travel restrictions being enforced. According to our weaving community in Basey, which sources a significant portion of its food and supplies from Tacloban City across the San Juanico Strait, this has made it difficult for them to procure everyday necessities.
All images are from the photo archives of Trish Lim
Meanwhile, in Lamitan City in Basilan, our Yakan partners reported an increase in the cost of everyday goods. One of their leaders told us, "Namomroblema na nga kami, baka paubos na rin mga gastusin namin habang patagal nang patagal ang quarantine." [We are worried because our money is running out while the quarantine keeps getting longer and longer.]
Our artisans are in a better position to weather the crisis as compared to poor families living in the cities. For one thing, Woven is continuing the production of handicrafts in Samar so as to sustain the livelihood of our communities. Weaving and embroidery is usually done at home anyway. For another, many of the artisans double as farmers, or have family members who work as fishermen.
"Namomroblema na nga kami, baka paubos na rin mga gastusin namin habang patagal nang patagal ang quarantine." [We are worried because our money is running out while the quarantine keeps getting longer and longer.]
The problem is, most farming in Basey is geared towards cash crops such as rice and coconut. A portion of their annual rice harvest is kept for their family's consumption, while the rest is sold for cash, which is then used for the purchase of necessities such as meat, vegetables, and other household goods. Very few farmers practice the bahay kubo style of farming – named after the song – where all of their food requirements are grown in the farm.
The technical term for the bahay kubo style is integrated and diversified farming, and this is something that my foundation has been pushing for in other areas. It is a way for farmers to survive and even thrive regardless of their income level or the state of the national economy. And with the economic downturn caused by the much needed quarantine, our rural communities need to practice farming for self-sustenance more than ever.
Given this, Woven is hoping to distribute Bahay Kubo Farming Kits to at least a hundred of our artisans. Each kit will be worth PhP 1,100 and will contain seeds for 10 varieties of root crops and vegetables, a farming manual, and some working capital for fertilizer.
According to our farmer-consultant, one kit should be sufficient for a small 300 square meter garden, with an expected yield of 400 kilograms of crops within 3 to 4 months. That's more than enough to support a family of five for 3 months or so.
If COVID-19 and the ensuing economic disruption spreads indefinitely, the first harvest should happen soon after immediate relief efforts by the government have finished. At that point, with a fully-established Bahay Kubo garden, our farmers should be able to feed themselves and their families with little need for additional aid. If the crisis is resolved much earlier (hopefully), then at least our communities should have been able to kickstart their journey towards long-term food security.
Of course, our team recognizes that the greatest need right now is in caring for the sick, supporting the country's front-liners, and containing the spread of the virus. To this end, Woven has embarked on its own small effort to supply PPEs to hospitals and health workers (a work in progress). But at the same time, we cannot forget our artisans and their families, for whom COVID-19 is only the latest in the long history of disasters that they have endured. And with your help, we hope to make this crisis a little bit more bearable for them. 
How can you help?
1. Hapag-Kainan Campaign
In collaboration with Yakan weavers of Basilan, we've created a line of beautiful handwoven placemats. The Hapag Collection was designed to liven up your dining tables - while helping our partner artisans bring food to theirs.
Net proceeds from every set will go to our Bahay Kubo Program, which will provide seeds, capital, and materials for a backyard garden for each of our artisans in Basey and Basilan.
2. Shop Woven.ph for a Cause 
Eyeing an Abre or Liham sleeve instead? No problem - you can still help. Every other purchase on our website will also contribute to the BK Program. 20% of sales will automatically go towards the provision of kits for our partner crafts communities.
3. Donate Directly
You can send monetary donations directly to:
BPI
John Xavier C. Francia
9609-0828-33
BDO
John Xavier C. Francia
0062-6008-3164
Please email your name and contact information along with proof of transfer to hello@woven.ph. We will reply to confirm your donation.
We will give you regular updates on the amount gathered and on the families that will be receiving it, as well. For exclusive news, subscribe to our newsletter!
This project is done in partnership with SEARCH Foundation.
Thank you in advance for all your help! We are always grateful for our supportive community of customers and partners. We'll get through this together.
John Francia is the Executive Director of the Social Economy and Action Research Foundation (SEARCH), which specializes in planning, implementing, and documenting community-based enterprise initiatives.
When super-typhoon Haiyan hit the Philippines in 2013, he was tasked to visit Samar and create an area development plan for the devastated towns - a project spearheaded by ABS-CBN Lingkod Kapamilya. It was there that he met the famous banig weavers of Basey. Shortly after, he became a Jesuit volunteer and spent a year in the community, helping the weavers earn a living from their craft. When he came back to Manila, he co-founded Woven with Trish Lim to continue the work he had started.