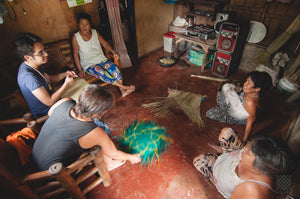 Woven's Grassroots Beginnings: Watch this Feature by CNN Philippines
How did Woven begin?
There were multiple starting points. At the time, they all seemed random and lacking in purpose. Looking back, though, it was possible to see how all of these points connected and fell into their rightful place. Officially, it began at the start of 2016. But before that, one of the founders was already doing volunteer work in the town of Basey in Western Samar. He was organizing the weaving communities in the area, helping them form associations so they could earn more and benefit from their craft.
As an old tradition, banig weaving used to be a good source of income for the women in Samar; they could pay for household expenses, raise their kids and send them to school with the money earned from weaving. But as the years went by, consolidators and entrepreneurs came in to buy the mats, keeping prices at their lowest while making high profits elsewhere. This put the weavers at a disadvantage. A family mat took about three to four weeks to complete, but a weaver earned only an average of Php 600 per month. The typical weaver was 50 years old and hunchbacked. She didn't see the value in continuing her weaving and she didn't want her children to follow in her trade.
Woven aims to change that. We hope to uplift the lives of artisans involved in traditional crafts and produce high-quality local products for the modern world. If you want to know more, you can check out the CNN Philippines feature below to know how all the points connected and how we intend to support our local weavers:
Photos and videos of the community by Trish Lim