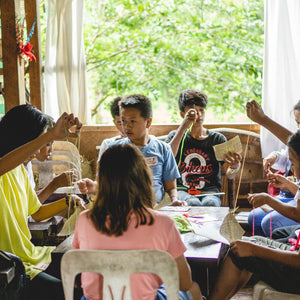 Kabataan Krafts: Unleashing the Creativity of Kids
A peek at one of our initiatives in Basey: Kabataan Krafts, a youth-based organization made up of the children of artisans, aged 12 to 17 years old. This session on creativity was done last October 2019 with designers Alessa Lanot and Mikko Sumulong as the teachers. Under their tutelage, the kids learned how to find inspiration in nature and harness their creativity to produce vibrant works of art.
The children are shy, but when the trainer hands them the paper and art materials, they settle into the task of creative work easily. They disperse and roam the grounds of the Sohoton Visitor's center, stopping at a bush dotted with flowers, at the foot of a palm tree or beside tropical leaves sprouting from the ground. They sit on the grass or on the doorstep of one of the eco-lodges, hunched over their piece of paper, pencils scribbling away.
"Creativity is not just limited to drawing or painting," said Alessa Lanot, the trainer for the day, during her introduction to the workshop. As an entrepreneur, artist, and teacher herself, she was firm on her belief that anyone can be creative. "It is a kind of thinking that can be applied to problem solving. It's about looking at things differently and learning to ask the questions that matter. You don't just create for the sake of creating."
Among the participants are familiar faces: Marwin, Vanessa, Lyka, Jovie, and others. These are the kids of weavers with whom we regularly work. They were also participants in the mat weaving workshops two years ago. There are a few fresh faces in the crowd, students from the local school who joined Woven's youth-based organization dubbed Kabataan Krafts. The ages vary from 12 to 17 years old.
"It is a kind of thinking that can be applied to problem solving. It's about looking at things differently and learning to ask the questions that matter. You don't just create for the sake of creating."
In the weeks prior to this session, they had undergone other trainings such as the round mat weaving and embroidery, a more advanced form of the craft. They had also begun a series of classes dedicated to computer literacy. Just the other month, they had finished a session on Powerpoint wherein they learned how to create slides and craft content using the many functionalities of the application.
To many of them, Microsoft Word, Powerpoint, Excel, and Photoshop are novel things and getting to understand how to navigate the different applications has been exciting. They know that this will greatly help them later on in school and in whatever career they decide to pursue. One of the kids, Renilyn, is a 12-year-old boy currently in grade 6. When asked what he wants to be in the future, he says he wants to be an engineer. Another one, a grade 11 girl named Bianca, wishes to get a job in Information Technology.
"I enjoyed the sessions on Powerpoint and Photoshop," says Bianca Mae. "There are so many things to explore and I liked learning how to edit."
Chelsea, a 15-year-old Grade 9 student from the village of Bariwon, dreams of becoming an interior designer someday. For her, the workshops have been fun and eye-opening. It's allowed her to meet and learn from experts in the creative field, like Alessa and her teaching assistant, Mikko, and put into practice what she has learned.
In fact, this is what they do at the end of their workshop with Alessa and Mikko. After a short lecture on creativity and several exercises that enabled them to find inspiration in nature, the kids were given a familiar object that they saw their mothers handle everyday – a small panel made from tikog. Each one has to create designs on the banig, but instead of buri strips – the traditional material for embroidery – they are given colorful bundles of yarn. It is the same concept: imprinting vibrant colors on banig mats. But it's a different approach, a new way of doing things.
The kids scramble to get the best colors of yarn and settle into their respective stations. They thread the strings through the mat, up and down, inside and out. Hunched over their work, the patterns coming to life on the faded yellow of the tikog, they get lost in the process of creating.
About the Kabataan Krafts Initiative
Launched in 2019, the Kabataan Krafts initiative was borne out of our desire to take care of the next generation of weavers and embroiderers. Kabataan is the Filipino word for 'youth.' Kabataan Krafts is focused on fostering creativity, collaboration, and leadership among members. It is Woven's way to reach a broader segment of the youth, gathering them in one space so they are free to explore different crafts, both traditional and modern.
Kabataan Krafts is implemented in partnership with The Work Together Foundation.