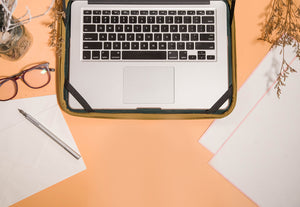 The WFH Survival Guide: 6 Tips for Adjusting to the New Normal
Woven Co-owner Audrey Trinidad shares some tips on how to make this work from home situation work for you and how you can stay connected while staying at home.
Admit it, you've probably said it before: "That meeting could have been an email."  As it turns out, now we have a golden opportunity to prove that not only can many meetings be emails, but that physical presence in the office isn't required to get good work done.
With COVID-19 containment efforts to #flattenthecurve keeping everyone indoors for the next few weeks, millions of people are trying to work from home. Continuing to work is a great way to stay occupied, but it can be challenging when you aren't used to it. That's why we've come up with some tips on how you can stay productive, especially during those times when taking a nap or watching Netflix seems very, very tempting.
1. Make sure the technology is working
Working remotely means relying on applications like Slack, Zoom, Google Hangouts or Microsoft Teams. Figure out which one works best for your team then walk them through the features so that you can use them effectively. Dropbox and Google Drive are also great cloud storage services that allow you to collaborate on documents.
How do you deal with choppy video calls? Of course, stable internet access is the main requirement. But you can also try shutting down other programs to ease the load on your connection. If it continues to bog down, you might need to shut off the video and use the audio alone. You won't be able to see your team but at least you will be able to participate in the discussion.
If you have kids, it would also be a good idea to remind them to avoid using the internet during your call, or try to time your call so it doesn't coincide with your partner's or roommate's video call.
2. Establish a routine that plays to your strengths
It's important to create a routine and determine your work hours so that you avoid 24x7 work mentality and are able to protect your free time. Aside from that, play to your strengths! If you are more productive in the morning, then schedule time to do more focus intensive work then and schedule calls after lunch. If you like taking breaks, then schedule a quick workout or creativity session in the afternoon. It can give you that much-needed energy boost to power through your emails.
At the end of the day, turn off your computer or charge your phone in another room. That will help you relax and spend time with your loved ones.
3. Create your workspace and dress for it!
If you can help it, dedicate a workspace away from your bedroom. Not only will it remove the temptation to lie down, it will also help you distinguish between working time and resting time. 
By dressing for work, you can also shift your mindset into work mode. Although you don't need to get into all out office wear, dressing up will make you look professional during video calls. Some people wear a pair of indoor shoes so you feel dressier, without bringing in dirt from your usual office shoes into your home.
4. Make meaningful connections
Working at home can feel very isolating. You're no longer a seat away from your teammates, so it's always nice to reach out and ask them how they're doing. Listen first to what they have to say because you never know what they're going through at home or in their community. (Coffice Hunter Tin Advincula also mentioned this in her guest article on the blog.) 
For those who miss the company, here's something you can try: keep your videoconference call on so you can see your teammates working without necessarily having to make conversation. It mimics the office setup so that you can work together, while being apart.
It also helps to be extra detailed in emails to avoid misunderstanding. Better yet, make a quick call to make sure you are able to explain effectively. 
5. Focus on what's essential and relevant for the moment
Information overload is common when everyone is constantly online and every ping from your mobile device feels urgent! Decide ahead what time you will be checking your social media and give yourself 15-20 minutes to avoid falling into the internet black hole.
Our New Normal: The Woven Manila team
doing its weekly meeting via Zoom
When you need to host a video call with multiple people, make sure you send an agenda and output requirements ahead to the attendees. Once everyone is on the call, start with kamustahan. Check up on each other and find out how their families are doing. Social distancing shouldn't make us forget that we are all still part of a community that needs to take care of each other.
If you are presenting during the video call, use the share screen function to show visual aids, meeting points, and action points. It also helps attendees focus on specific items while ensuring that there is output from the discussion.
6. Be kind and compassionate to others – and most especially, to yourself.
The enormity of the pandemic and the challenges facing our health care system feel overwhelming, especially if you are sitting at home and not able to help directly. But by focusing on your corner of the world and taking care of your family, your fellow employees, and your neighbors, you are able to focus your energies on what you can have direct impact on. It may feel like such a little thing to continue to be kind and compassionate these days. But in this time of great uncertainty, it's those little things that matter most.

What's helped you adjust to this new situation? Tell us what the last few days have been like and share some tips or words of encouragement to inspire the community.